Today's book is
The Witch's Daughter
by
Paula Brackston.
I first saw this book on Amazon and was immediately drawn to it. It's just one of those things, one of those subjects that fascinates me like Queen Elizabeth I, WWII, owls and lighthouses.
Besides, the cover intrigued me.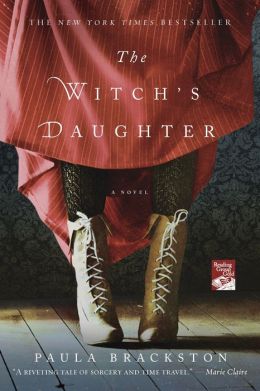 Synopsis from Goodreads
: My name is Elizabeth Anne Hawksmith, and my age is three hundred and eighty-four years. Each new settlement asks for a new journal, and so this Book of Shadows begins…
In the spring of 1628, the Witchfinder of Wessex finds himself a true Witch. As Bess Hawksmith watches her mother swing from the Hanging Tree she knows that only one man can save her from the same fate at the hands of the panicked mob: the Warlock Gideon Masters, and his Book of Shadows. Secluded at his cottage in the woods, Gideon instructs Bess in the Craft, awakening formidable powers she didn't know she had and making her immortal. She couldn't have foreseen that even now, centuries later, he would be hunting her across time, determined to claim payment for saving her life.
In present-day England, Elizabeth has built a quiet life for herself, tending her garden and selling herbs and oils at the local farmers' market. But her solitude abruptly ends when a teenage girl called Tegan starts hanging around. Against her better judgment, Elizabeth begins teaching Tegan the ways of the Hedge Witch, in the process awakening memories--and demons—long thought forgotten.
Part historical romance, part modern fantasy, The Witch's Daughter is a fresh, compelling take on the magical, yet dangerous world of Witches.Readers will long remember the fiercely independent heroine who survives plagues, wars, and the heartbreak that comes with immortality to remain true to herself, and protect the protégé she comes to love.
I was sucked in immediately and really enjoyed the book. It explores this woman over centuries of time, the way she changes what she does as the world around her changes, and the way that someone so creepy and driven would continually manifest.
As I started reading the reviews on this book though, people didn't enjoy it, and the reason was funny to me. See the last paragraph of the synopsis? The part where it says part historical romance, part modern fantasy? Reviewers were upset because it either wasn't historical
enough
or fantasy
enough.
But that was the reason I loved it.
Have you ever been surprised at the reasons people don't like a book? Have you ever disliked a book because it wasn't enough of what you thought it would be? Do you have subjects that just fascinate you because they fascinate you?