Yesterday, I shared five of my favorite books on
Thinking Through Our Fingers
. I grouped them together as they all had an element or feeling of magic, and they felt like they should all be friends. But I couldn't let the year go out without spotlighting three other books that came out this year, each of which is powerful, beautifully written and deserving of attention.
The Art of Falling by Kathryn Craft
One wrong step could send her over the edge.
All Penny has ever wanted to do is dance—and when that chance is taken from her, it pushes her to the brink of despair, from which she might never return. When she wakes up after a traumatic fall, bruised and battered but miraculously alive, Penny must confront the memories that have haunted her for years, using her love of movement to pick up the pieces of her shattered life.
Kathryn Craft's lyrical debut novel is a masterful portrayal of a young woman trying to come to terms with her body and the artistic world that has repeatedly rejected her. The Art of Falling expresses the beauty of movement, the stasis of despair, and the unlimited possibilities that come with a new beginning.
This book had such a powerful impact on me. I'm not a dancer at all, but the character, the struggles she had, the complexity of understanding who she was when she fell and how that could align with who she could be, not to mention the struggles she felt in trying to fit in a world where she didn't quite fit in. I loved the writing, but really felt that Penny was a form of me. Her journey led me to think about ways to improve on my own.
Chasing the Sun: A Novel by Natalia Sylvester
Andres suspects his wife has left him—again. Then he learns that the unthinkable has happened: she's been kidnapped. Too much time and too many secrets have come between Andres and Marabela, but now that she's gone, he'll do anything to get her back. Or will he?
As Marabela slips farther away, Andres must decide whether they still have something worth fighting for, and exactly what he'll give up to bring her home. And unfortunately, the decision isn't entirely up to him, or up to the private mediator who moves into the family home to negotiate with the terrorists holding Marabela. Andres struggles to maintain the illusion of control while simultaneously scrambling to collect his wife's ransom, tending to the needs of his two young children, and reconnecting with an old friend who may hold the key to his past and his wife's future.
Set in Lima, Peru, in a time of civil and political unrest, this evocative page-turner is a perfect marriage of domestic drama and suspense.
I fell in love with the cover of this book first, but the writing soon made me forget about it. The premise is so unique, and the tension it creates just there is perfect, but Sylvester isn't satisfied with that amount of story. She weaves in backstory, incredible side characters, descriptions of a place I've never been to but felt like I could identify with all while encouraging me to think what I would do in the situation. This was different than I expected, and I loved it more because of that.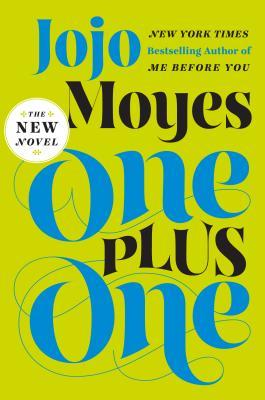 One Plus One by Jojo Moyes
Suppose your life sucks. A lot. Your husband has done a vanishing act, your teenage stepson is being bullied and your math whiz daughter has a once-in-a-lifetime opportunity that you can't afford to pay for. That's Jess's life in a nutshell—until an unexpected knight-in-shining-armor offers to rescue them. Only Jess's knight turns out to be Geeky Ed, the obnoxious tech millionaire whose vacation home she happens to clean. But Ed has big problems of his own, and driving the dysfunctional family to the Math Olympiad feels like his first unselfish act in ages . . . maybe ever.
This the third Moyes books I've read, and each time, I marvel at the way she can capture characterization and voice in the midst of a plot that isn't earth-shattering. I loved these people, rooted for them, face-palmed when they did something stupid and really wanted them over for dinner (maybe not the dog). Time and again Moyes delivers on books that I'm not sure will work, and they do brilliantly.
What have been your favorite reads of 2014? Any you are anticipating in the new year?